GROEBNER is an essential business and continues to remain open for operation.
|| GROEBNER Remains Open ||
Business in a Time of Uncertainty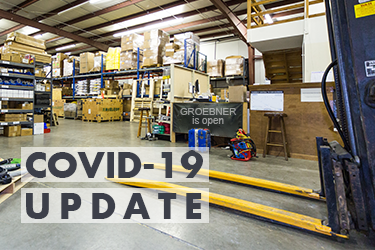 During this unprecedented time, natural gas utilities and the companies that support them have been designated as essential businesses. This means GROEBNER is able to continue to remain open for operation.
The Federal Energy Regulatory Commission is working closely with regulated entities to guarantee service reliability, including such measures as removing established regulatory burdens. The focus is providing a dependable energy network, and energy companies are rising to this call. Many companies are reorganizing their service procedures to minimize contact with homeowners where possible and developing online communications to increase accessibility. Natural gas organizations are also suspending disconnections for those who are struggling financially to ensure uninterrupted service for every household.
As part of an essential industry, GROEBNER continues to monitor all pertinent guidelines* to ensure the health and safety to our employees and customers while operating during this challenging time. We are also in close contact with our supplier network to understand and communicate any changes with product availability and supply chain operations.
While most sales trips have been put on hold for now, the GROEBNER sales team continues to man the phones so orders can be placed and tracked like usual. Warehouse teams continue to fulfill and ship orders, offering the service you have grown accustomed to from GROEBNER. Where it does not impact company operations, the administrative team is working remotely to reduce the number of people at our locations, making social distancing easier. We have increased our cleaning and disinfecting procedures to help ensure our staff is safe and continue to do all we can to make sure energy providers have the materials they need to continue distribution.
Our suppliers have also been closely monitoring and implementing the pertinent guidelines*. They continue to manufacture and ship the materials necessary for our natural gas distribution systems. Many of our suppliers have established specific Preparedness and Response Teams to make sure they can respond to any changes in national and state recommendations instantly. Several suppliers have modified their manufacturing schedules to ensure the safety of employees, such as staggering shifts to implement social distancing. Some sites are distributing masks and other personal protective equipment to keep their teams healthy, as well as boosting cleaning protocols and moving non-operational roles to remote schedules. By ensuring the safety of employees that must work onsite, our suppliers continue to be able to provide the products needed. We are proud to work with this flexible, efficient network of essential partners.
Every organization in the energy sector is vital to the continued running and maintenance of crucial infrastructure. We have a special responsibility to maintain operations during this difficult time. While we move forward in a time of uncertainty, GROEBNER and our network of suppliers remain committed to providing the materials and services needed for safe natural gas distribution systems. Together, with our utility customers, we will keep the flow of energy moving to our communities throughout these challenging times.
* GROEBNER continues to monitor the guidelines from the Cybersecurity and Infrastructure Security Agency (CISA), which operates under the U.S. Department of Homeland Security (DHS), directives from the Centers for Disease Control and Prevention (CDC), as well as instructions from state and local governments.