About
Our Story
For over 45 years, GROEBNER, a manufacturers' representative and distribution company, has sought to partner with our natural gas utility and contractor customers to enhance their success. From day one, GROEBNER has promoted a corporate culture based on integrity, quality, and service in all our business interactions.
In 1976, our founder, Chuck Groebner, established GROEBNER (formerly known as Groebner & Associates, Inc.) to meet the energy industry's need for a reliable source of distribution products for natural gas. He developed a superior network of suppliers to meet those requirements. In 1980, Joe Groebner, joined Chuck to help continue the drive to provide top quality products and service to natural gas utilities and contractors. In 2021, Joe was proud to transition leadership to the third generation of the Groebner family. Joe's daughter, Carissa Skorczewski, as President and Joe's son, Curt Groebner, as Vice President of Finance are continuing the culture of integrity, quality, and service within GROEBNER by adding new technologies, new services, and nurturing a team of experts in their fields.
In 2022, GROEBNER received certification as a Women's Business Enterprise (WBE) by the Women's Business Enterprise National Council (WBENC), the nation's largest third-party certifier of businesses owned and operated by women. Our certification will continue to allow our customers to provide dependable, effective natural gas delivery to their customers without needing to sacrifice quality to meet diversity goals.
With facilities in Minnesota, Illinois, Kansas, and Texas, we'll continue to meet our customers' needs through strategic growth and a deeper understanding of the energy industry well into the future.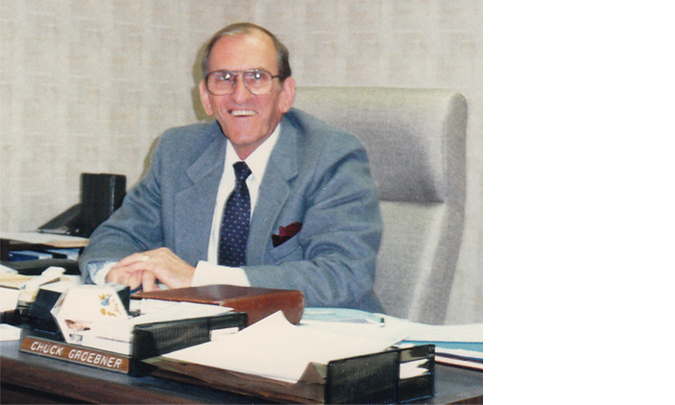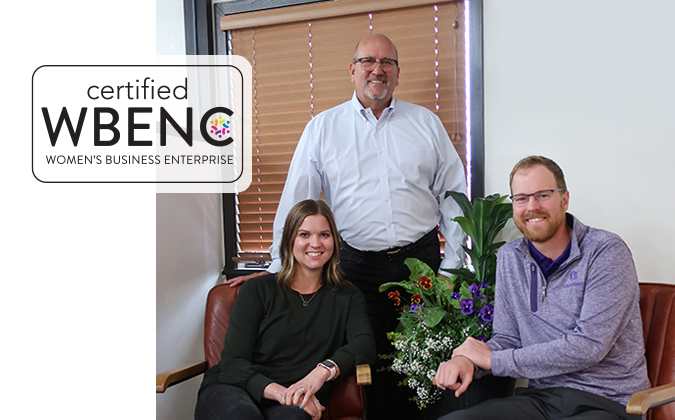 Our Values – Integrity. Quality. Service.
At GROEBNER, we do our utmost to ensure our culture of integrity, quality, and service thrives throughout the company and all of our business relationships. We're honored to work with each of you – customers, suppliers, and employees – and thank you for the opportunity to partner with you in your successes.
Integrity.
We strive for complete reliability in all our dealings, surrounding ourselves with trustworthy suppliers and employees. Our focus on integrity means you can rely on GROEBNER to meet your natural gas distribution product and service needs every time.
Quality.
High quality in both our products and personnel is also key to our customers' success. The manufacturers / suppliers we represent and the employees we hire are strategically chosen to ensure we offer you:
The highest quality
The latest technology
The best value
Delivery in a timely fashion
Service.
Integrity and quality must be supported by excellent service – and GROEBNER lives by that conviction. You'll find our team provides you the highest level of service from your initial contact through to follow-up support.
Our Team
A major element of the excellence GROEBNER is committed to providing is our team. Our ability to deliver outstanding results for our clients is a credit to our team's quality and leadership.
Our outside and inside sales teams offer you industry expertise, to ensure that your product selection meets the specific needs of your project. Our outside sales staff works with you to understand every aspect of the project, problem-solving with you so your selections provide the precise solution you require. GROEBNER's inside sales team then follows your orders from placement through shipping to make sure the process runs smoothly, start to finish.
Our top-notch shipping, service, and technician team make certain the solutions you receive arrive as promised and work as needed. Factory-certified technicians offer maintenance, repairs, and training for your staff, so your equipment remains at peak performance.
You can rely on our corporate and administrative team to understand your needs, communicate in a clear and timely manner, and stay connected with the industry as a whole. With a staff trained and knowledgeable in finance, marketing, and business operations, GROEBNER ensures your business receives the attention it needs and deserves.
The variety in our team's backgrounds strengthen GROEBNER's knowledge and helps ensure your company's success. We are actively involved with industry associations and hire with specific experience in mind.
Our Communities
GROEBNER seeks to be an active, contributing member to the variety of communities where we are involved. This ensures our culture of integrity, quality, and service is grounded in the needs of the industry. Through our industry involvement, we are part of the national conversation for environmentally sound power generation with natural gas, bringing expertise to the search for safe and effective natural gas distribution and representing our customers.
GROEBNER also believes in supporting strong community growth through encouraging supplier diversity. Encouraging Diverse Business Enterprises (DBEs) by adding them to our network encourages growth in their business and our communities.
Our employees' generously support numerous nonprofit organizations with their time and money. We donate, walk, ride, run, and sponsor fellow coworkers and groups doing meaningful work in our communities. In order to foster and support that generous spirit, GROEBNER offers a program of Volunteer Time Off (VTO), which allows our staff to take paid time off for volunteer projects, expanding their choice of possibilities.